The Center for Rice Husk Technology (CRHET) develops rice husk gas stove technology and disseminates the information free of charge, including technology handbooks and fabrication manuals.
Energy Products/Services
Target Market
Users of stoves and industrial heaters in regions where rice is produced.
| | |
| --- | --- |
| Headquarters: | Nueva Ecija, Philippines |
| Established: | Formally 2009 |
| Impact Areas: | Philippines, Indonesia, Vietnam, worldwide |
| Type: | Nonprofit |
| Energy Sectors: | |
| Business Model Types: | |
| Staff Size: | 3 and 2 part-time |
| Annual Budget: | $15,000 |
| Major Funders: | Rolex Awards, Tech Awards |
| Awards: | 2008: Rolex Awards for Enterprise2010: Tech Museum of Innovation Award |
Revenue Streams
Grants
University support
Problem Addressed
Worldwide, about 115 million metric tons of rice husks are burned or wasted annually, mostly as a result of rice production in Asia, Africa, and South America.
Meanwhile, expensive liquid propane gas, diesel, and kerosene are the only cooking and heating fuel sources available for most off-grid households and rural industry in most of these regions.
Value Proposition
Rice husk gasifier stoves are low-cost and environment-friendly and address the high cost of fuel associated with domestic cooking and with supplying heat for various small-scale industries applications such as drying, baking, and heating.
By developing low-cost accessible rice husk gasifier technologies, CRHET improves the economic life of rural households through savings on fuel, employment opportunities, proper disposal of waste, and healthy environment during cooking and other thermal applications.
Moreover, small-scale industries can use the stoves to reduce costs and improve their competitiveness.
Impact to Date
100+ documented adopters of the technology from 22 countries.
3 major training workshops conducted
Numerous downloads of Rice Husk Gas Stove Handbook from website
Several continuous-flow rice husk gasifiers in domestic and agro-industrial use in the Philippines, Indonesia, and Vietnam
Job opportunities created in the fabrication and marketing of rice husk gasifiers
CRHET receives an average of 2-3 requests for plans daily.
In 2011 CRHET developed new technologies, a household-size continuous flow rice husk gas stove, and a small scale gasifier power plant designed to power streetlights.
Milestones
2013: First stove developed
2018: Received Rolex Award
2019: Began technology dissemination
2020: First units became available in Philippines, Indonesia, and Vietnam
2020: Continuous flow model for small industry use developed
2020: Mass production in China begun
2020: Received CSTS Tech Award
2021: Relocated to Central Luzon University from Iloilo City
2024: Received grant from Pauchon Research Foundation of Morgan Hill California for development of rice husk micro-gasifier power generating device for small farmer's use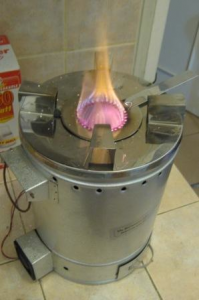 Product Sourcing
CRHET researches its stoves within the academic environment, then turns the plans over to industry to commercialize and build.
Different versions have been developed in different countries due to their cooking practices. For example, in Indonesia, the stove is designed to cook for 3 hours in the preparation of a single meal, which in the Philippines and Vietnam, it is designed to cook for one hour each in three daily meal preparations.
Distribution
CRHET's method of distribution is to teach others how to build its stove and innovate on it, and thereby to spread it around the world
Plans for the stove are made freely available to any who would like them. They must merely contact CRHET to ask for them.
CRHET does not sell the stoves itself or claim IP rights to them.
To date there are 4 cooperating manufacturers in the Philippines, 3 in Vietnam, 1 in Indonesia, and 1 in Sri Lanka. There are several producers of the stoves and gas burners worldwide who were initially assisted by CRHET freely producing the technology.
Because the plans are freely disseminated, CRHET does not have full knowledge of the other organizations who are developing and producing the stove and gas burner.
Several industrial users were assisted by CRHET on a consultancy basis in building their own gas burners.
CRHET has faced challenges getting feedback from users of its plans. 90% of those who downloaded the plans have not been in touch with CRHET since downloading.
Revenue & Affordability
While CRHET doesn't sell the stoves or collect any revenue from them, distributors have used varying methods to make prices affordable, such as offering financing that matches the amount users are saving by using the stove.