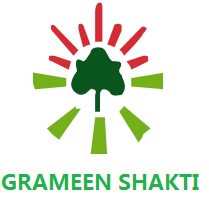 Grameen Shakti, the energy arm of the Grameen family of organizations, provides a range of affordable decentralized clean energy products to customers across Bangladesh
Energy Products/Services
Solar Home Systems
Biogas Plants
Improved Cook Stoves
Organic Fertilizer
Target Market
All Bangladeshis in need of improved power sources or cleaner cooking
Headquarters:
Dhaka, Bangladesh
Established:
1996
Impact Areas:
Bangladesh
Type:
Nonprofit
Energy Sectors:
Business Model Types:
Staff Size:
10,800
Annual Budget:
US$100m
Major Funders:
World Bank, GEF, Bangladesh Government IDCOL
Awards:
2002: Energy Globe Award
2003: USAID Best Theme Award, European Solar Prize
2004: Solar Prize
2005: IDCOL Award
2007: Right Livelihood Award, CSTS Tech Award
2008: Bangladesh National Environment Award, Energy Globe Award, Ashden Outstanding Achivement Award
2009: International Microfinance Award(Paris)
2010: SolarWorld Einstein Award
Revenue Streams
Sale of solar home systems, improved cookstoves, biogas plants, and fertilizer
Financing charges on installment plans
Value Proposition
Grameen Shakti is one of the world's largest and fastest growing renewable energy companies.
Since 1996 it has installed over 30MW of power, brought energy to over 4 million people, and sold nearly 900,000 energy products
It currently sells over 21,000 solar home systems per month, and sales continue to grow by 50% per year.
Problem Addressed
Over 48% of Bangladeshis, and 70% of rural Bangladeshis, lack access to the power and gas grids.
Due to the country's poverty and the isolation of many communities, this is not a problem that centralized, government-built power sources, will be able to fix in the near future.
Impact to Date
Sold over 580,000 solar home systems, 17,000 biogas plants, and 260,000 improved cookstoves since 1996.
Over 1,000 branches across Bangladesh
Over 28,000 staff trained
Milestones
1996: Grameen Shakti founded
2004: Reached a total of 20,000 solar home systems sold
2005: Introduced biogas plant
2006: Improved Cookstove program launched
2011: Sold 20,000 solar home systems in one month
Growth Plan
5m solar home systems installed by 2015
205,000 biogas plants by 2015
5m improved cooking stoves by 2015
100,000 green jobs created by 2015
Product Sourcing
Solar panels are imported mainly from Japan, while other components are procured from local suppliers.
Cookstoves and biogas plants use local materials
Grameen has 46 Grameen Technology Centers, across the country, managed by female engineers and staffed by female technicians assembling their solar components.
Grameen's cookstove was designed by Bangladesh government's Council of Scientific and Industrial Research.
Distribution
Grameen Shakti sells through its own salespeople at over 1000 offices across Bangladesh.
Each office has 'social engineers' who do door-to-door demonstrations, and technicians offering after-sales service.
Improved cookstoves are also sold through other organizations such as BRAC.
Marketing
Grameen Shakti uses local community members to market its products, such as teachers and elected leaders. It also installs systems in public places to raise awareness.
Grameen Shakti also hires and trains technicians from the communities in which it sells, and trains users to take care of their systems, thereby developing personal customer relationships which have helped with word of mouth sales.
Revenue & Affordability
In the long term (systems have a 25 year warranty), Grameen Shakti's solar systems save users a great deal of money. However, the upfront cost (around $510 for a 50w system) would prohibitive for many buyers if they had to pay all at once.
Therefore, Shakti offers an installment plan allowing users to make a 10%-25% downpayment and pay the system off over 1-3 years at a 5-8% interest rate, keeping the monthly payment close to what the average customer was previously paying for kerosene ($7/month), with the added benefits of being able to charge mobile phones, watch television, and use other products.
During installment payment periods, Grameen engineers visit households monthly, and customers can also purchase an annual maintenance agreement after they are paid off.
Shakti also offers a 4% discount for customers who pay everything up-front, and has a micro-utility program where customers pay a 10% downpayment and pay over 3 years at a 5% rate.
Biogas plants, which produce cooking fuel from cow dung, cost from US$330-615 and receive a government subsidy of $120. They are also sold on installments with a 25% downpayment.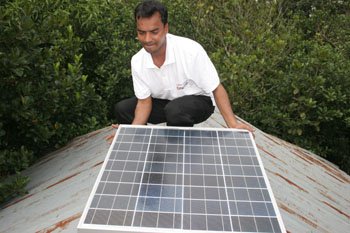 Description:
Grameen Shakti offers a range of solar home systems, from 10 to 135W, for off-grid consumers. The 20W system consists of a 20/21 watt panel, 2 5W CFL lamps or a 3W CFL and a tube light, a 30AH deep discharge battery, a charge controller, a frame and cables.
How It's Used:
Grameen Shakti's systems are used for lighting households and businesses.
Product Type:
Solar Home System
Technical Data
| | |
| --- | --- |
| Lumens/Watt: | 50 |
| Average Lamp Power and type: | 20W Panel, 2 5W CFL lamps or a 3W CFL and a tube light |
| Battery Capacity and type: | 3000mAh deep discharge |
| Hours Runtime/Charge: | 4-4.5 |
| Charging Hours from Flat: | 5-6 |
| Lumens: | 500 |
| Lumen-hours/year@4hr/day: | 730,000 |
| Service Delivered (lm.hr/$): | 23,740 |
| Kerosene Service Delivered (lm.hr/$): | 872 |
Cost Data
Number of Households Served
1
Upfront Cost
Estimated Retail Price:
$130
Recurring Costs
Replaceable Products
Life(years)
Replacement Costs
Battery
5
$25
Lights
4
$3
5-year Replacement Costs
$28.75
5-year Ownership Cost
$153.75
Other Products
Grameen Shakti has a number of solar home systems suiting customer needs and price ranges. Grameen Shakti also sells improved cookstoves, biogas digesters and organic fertilizer.